A well-defined edge is often the difference between a yard that looks messy and haphazard and one that looks professionally groomed. Luckily for you, these lawn-edging ideas can be done in a weekend – no landscape architect required! All you need are your edging materials (stones, wood, etc) and flowers or greenery to fill out your outdoor space.
25+ Creative Lawn-Edging Ideas to Make Your Yard the Envy of the Neighborhood

When choosing the materials to bring your lawn-edging ideas to life, keep your local climate and weather in mind. For example, if you live in a place with heavy rainfall and humidity a wooden edge will probably warp and rot. If you live somewhere very sunny plastic edges may fade quickly. If your yard doesn't get a lot of direct sunlight then solar powered lawn features probably won't work as well as you'd like.
Whatever lawn-edging ideas you decide are best for your home and yard, you can easily find the materials at a local hardware store or online. From modern to classic, structural to whimsical, there is an idea for every style and taste. Now, let's dive into these 31 lawn-edging ideas and get to work!
1. Simple Flower Bed with Brick Border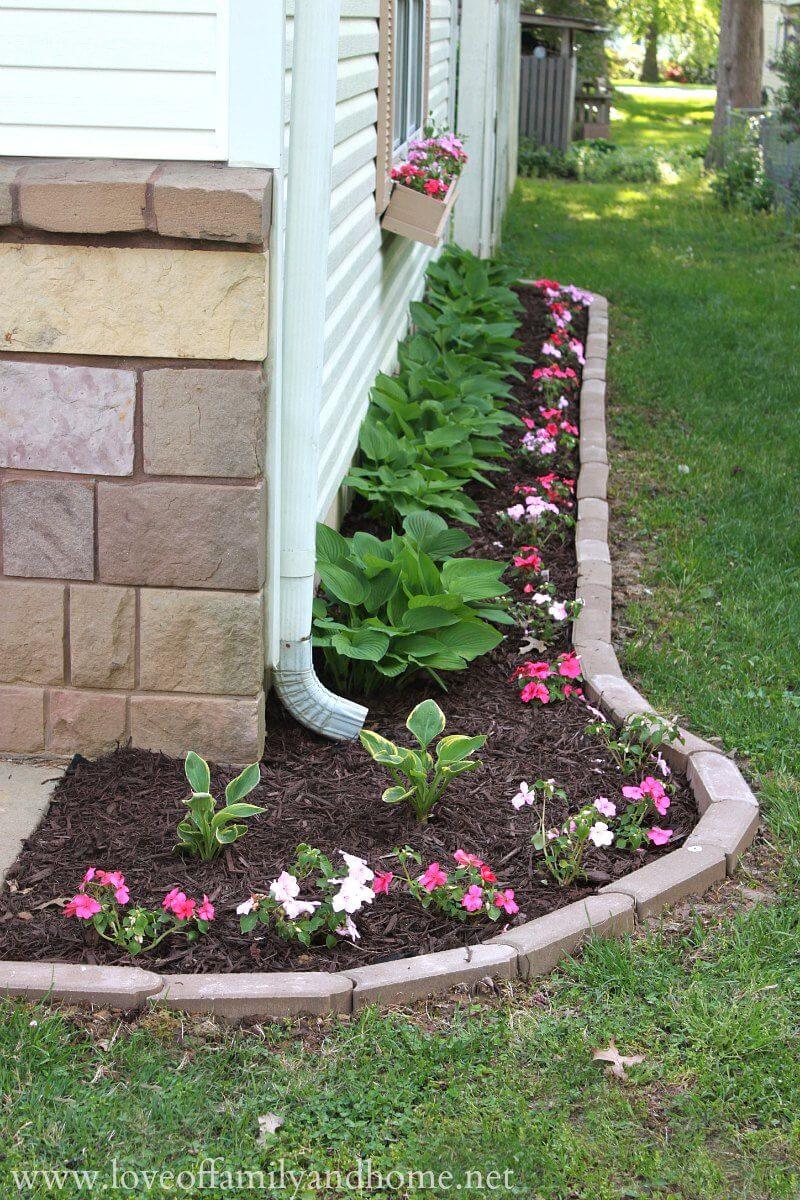 Source: loveoffamilyandhome.net
A simple flower bed on the side of the house needs a simple lawn edging to complete the landscaping look. These brick, interconnecting paver stones are unique and ideal for highlighting the simple flowerbed and drawing the eye directly to the flowers and greenery planted inside. Add mulch and multicolored flowers to add color to a white house or stone wall.
2. Modern Deck Edge with River Stones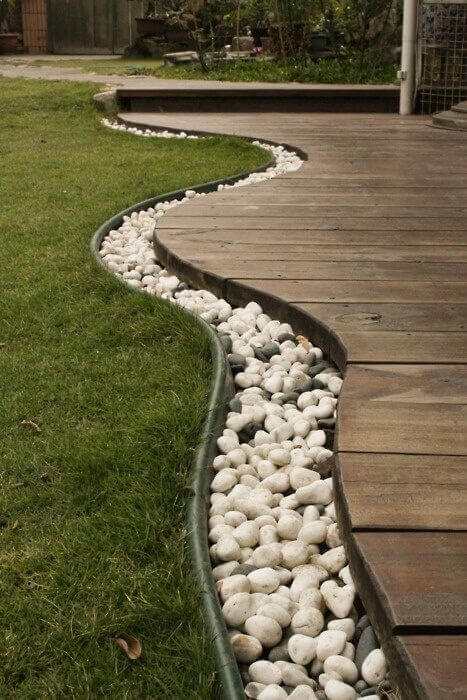 If you have a backyard deck walkway, just a simple drop off into the grass just looks sloppy. You can use plastic edging and river stones to create a modern look that helps your deck stand out from the yard. This lawn edging technique looks great up against the porch or even next to a pool deck. You can also use a variety of white, gray, and black stones to get a contrasting effect for your deck.
3. Flowers and Natural Stones Around a Tree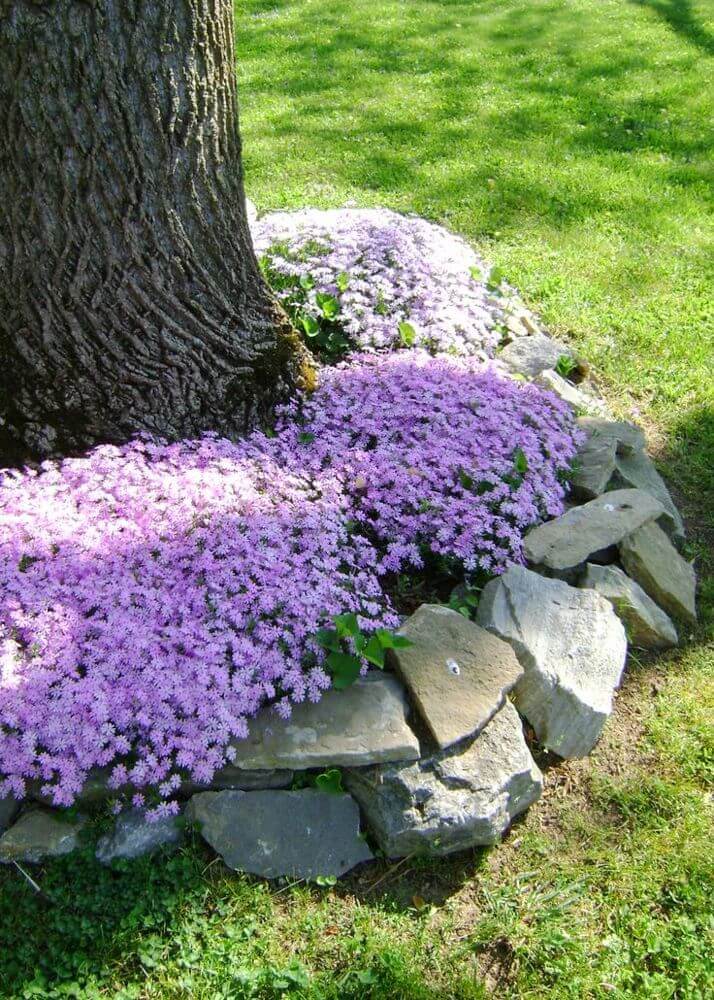 Source: outdoorareas.blogspot.com
Vibrant flowers always look best when planted around a tree trunk. However, they also need a muted color edging to let the true color of the flowers stand out from the vibrant grass. Using naturally gray stones can be the perfect option for contrasting with the bright flowers. Choose large stones and stack them however to create a unique, natural style wall.
4. Raised Flower Beds with Stone Walls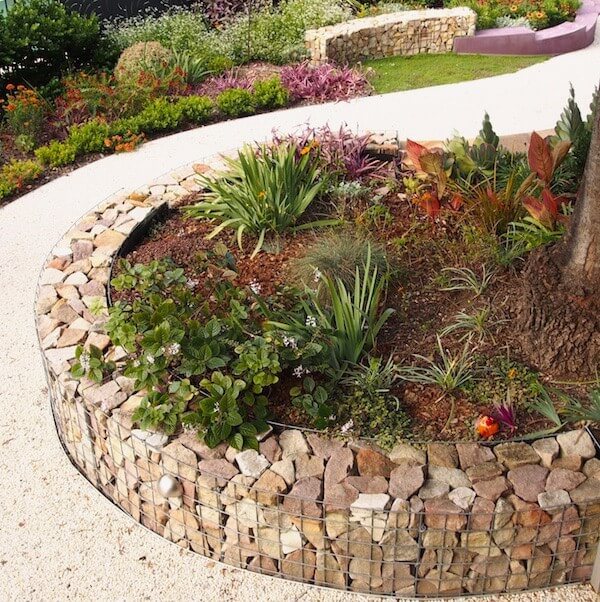 Source: catsandflorals.com
An interesting take on traditional stone walls, this idea uses wire basket-type material to hold stones of all shapes, sizes, and colors. This idea works best in a circle or curve, and you can make the wall level with the garden top to make it truly stand out from the sidewalk or walkway. Fill in the gaps with various colored mulch to create a natural look.
5. Outdoor Garden Edged with White Rocks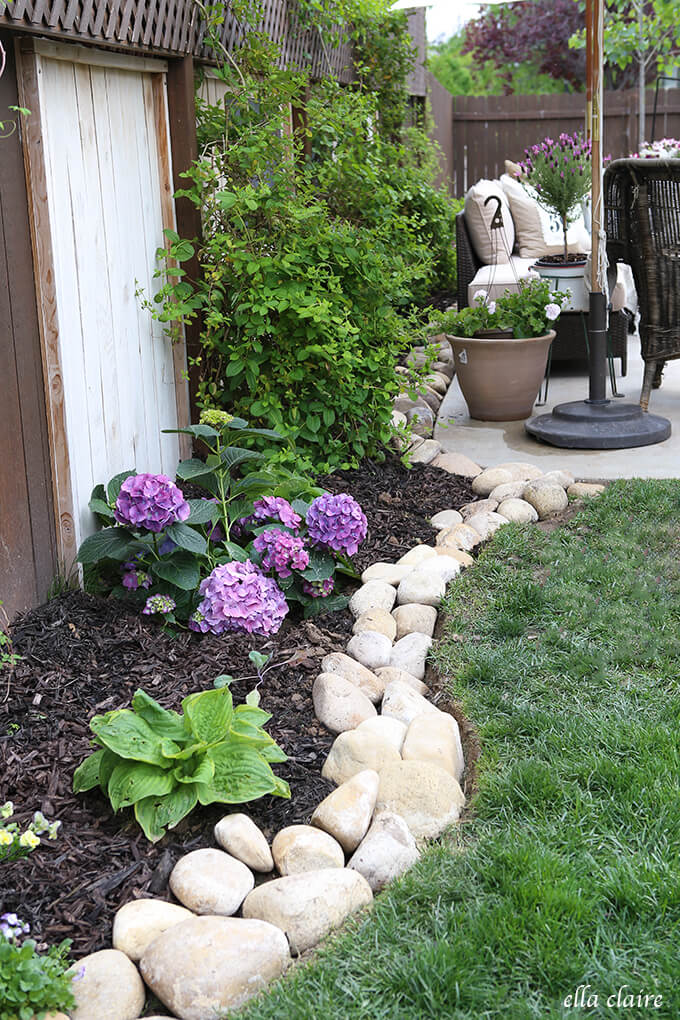 Source: ellaclaireinspired.com
Smooth river stones are beautiful in the water, but they are also beautiful lining your garden or as a lawn edging. Get as many of these smooth stones as possible, using them to line your garden. Create several rows thick to give it a unique look, or just use one row to highlight the flowers. Fill in the area with a contrasting colored mulch for the best results.
6. Butterfly Garden with Turned Red Brick Edge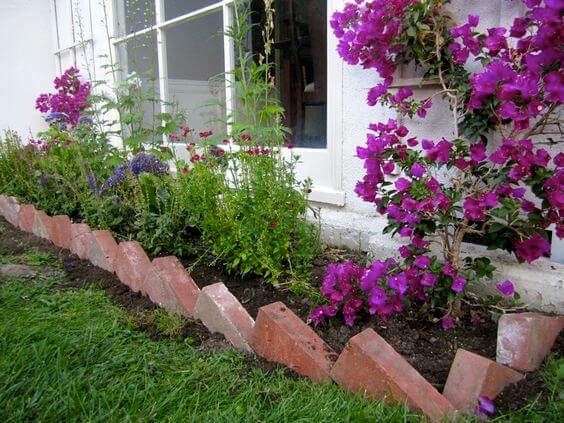 Source: plantcaretoday.com
Small butterfly gardens need an edging that is simple but unique to highlight the beautifully colored flowers that attract butterflies. These angled bricks are ideal for showcasing these types of flowers. You can use various colored bricks to get the job done, and fill in the space with mulch or potting soil of a dark color to let the flowers stand out the most.
7. Wood Framed Low-Water Garden in Stone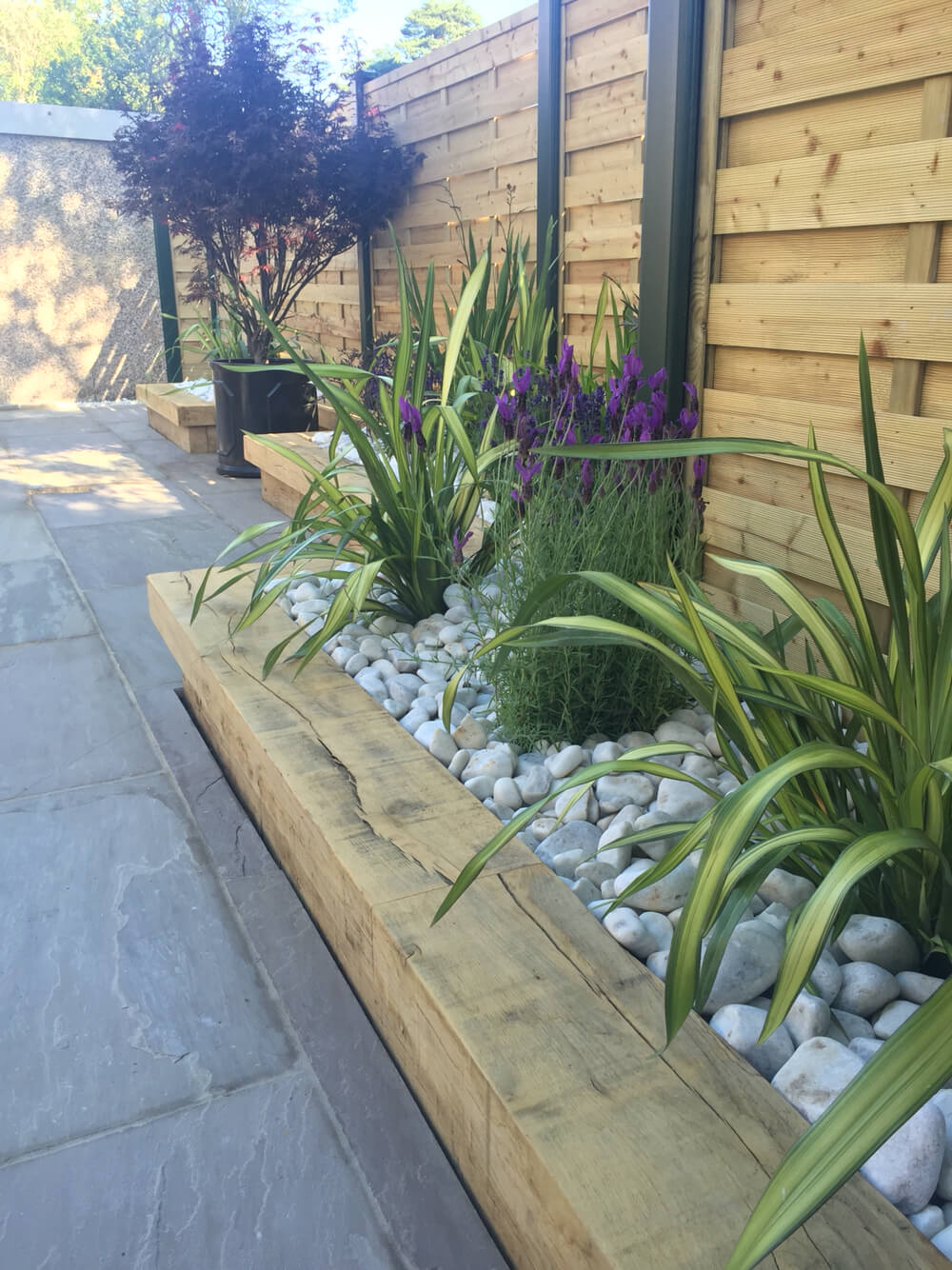 Porch gardens are unique, and this garden edging idea helps those porch gardens stand out. Using wood, frame off the garden, filling it with low-water plants and smooth stones to give the garden a simple aesthetic that is perfect for small backyard porches.
8. Creative Upside-down Colorful Wine Bottle Edge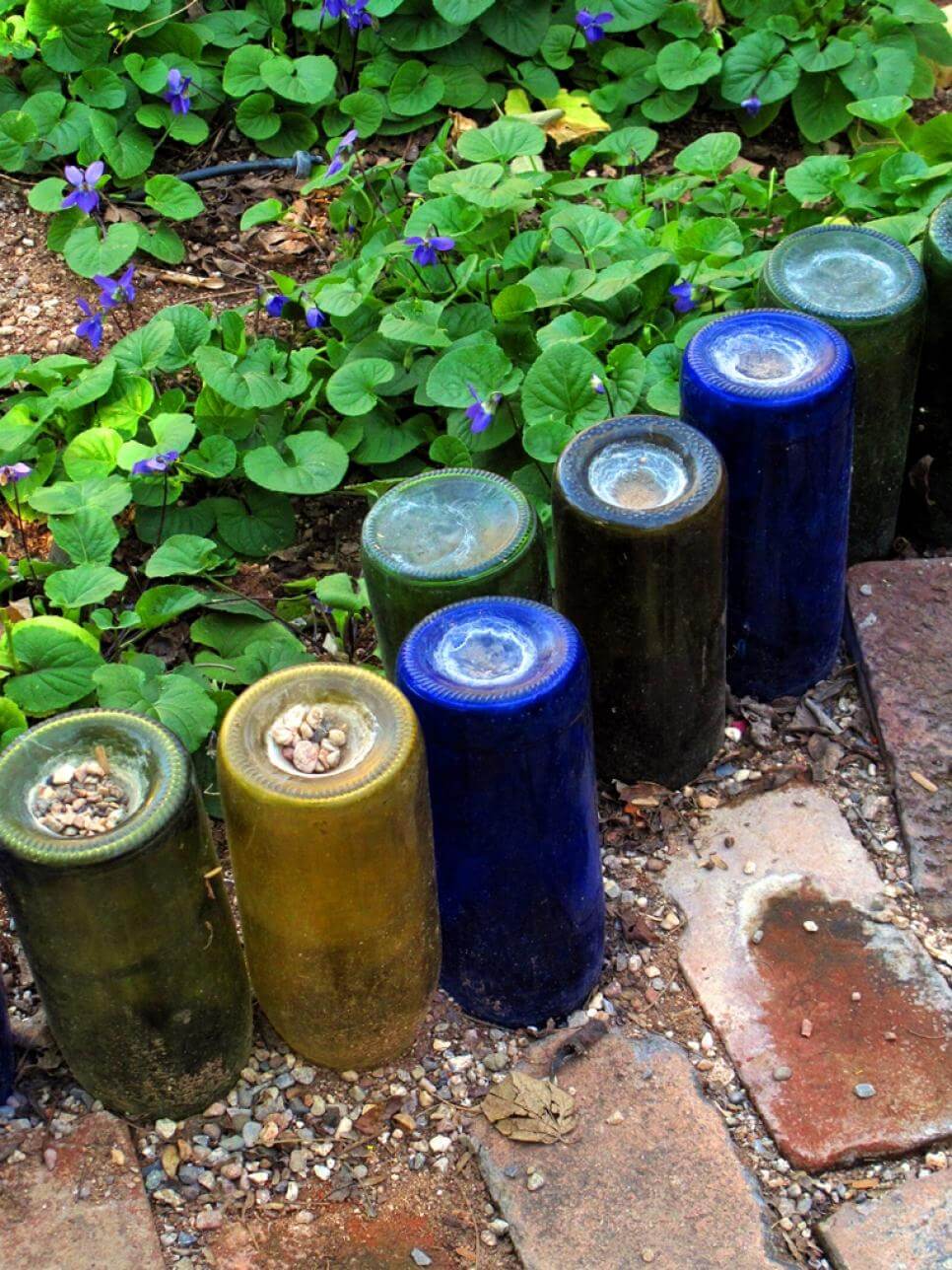 Source: felderrushing.net
Calling all wine drinkers! This lawn edging idea is both eclectic and genius. Using old wine bottles, simply stick them in the ground upside down to edge off your garden or walkway. You can even get colorful bottles to make it even more unique. You can add mulch or rocks to the inside for even more texture.
9. Bushes and Flowers with Natural Rock Edges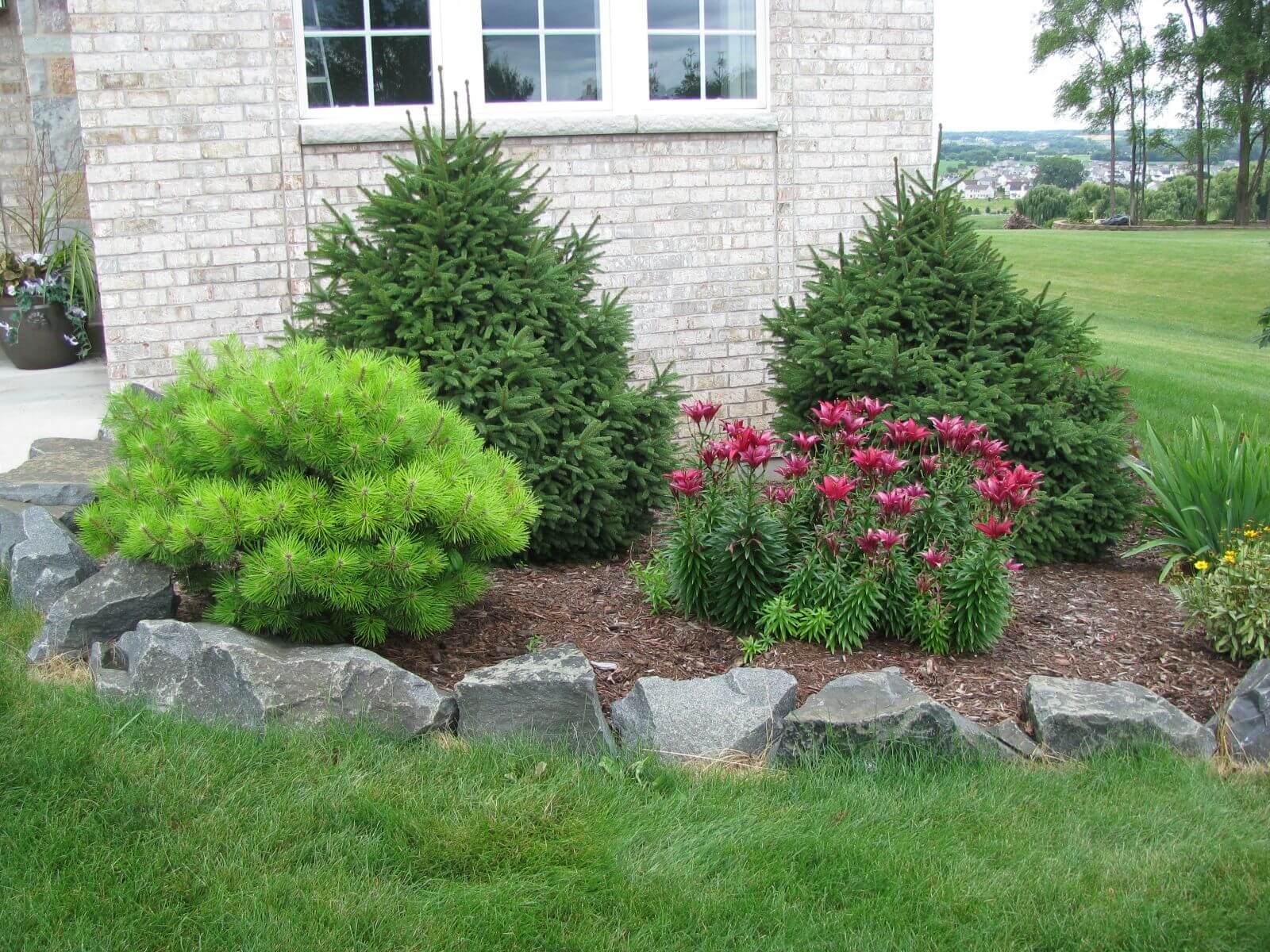 Source: christophersherwin.com
Living in a rocky area can be beneficial, especially if you have rocks lying around. Grab those, and put them to good use by using them to line off your landscaping, your yard, and your garden. These are also great for larger flowers and bushes, since the larger rocks tend to overpower the smaller flowers in a flower garden.
10. Raised Garden Set Into Woven Branch Fence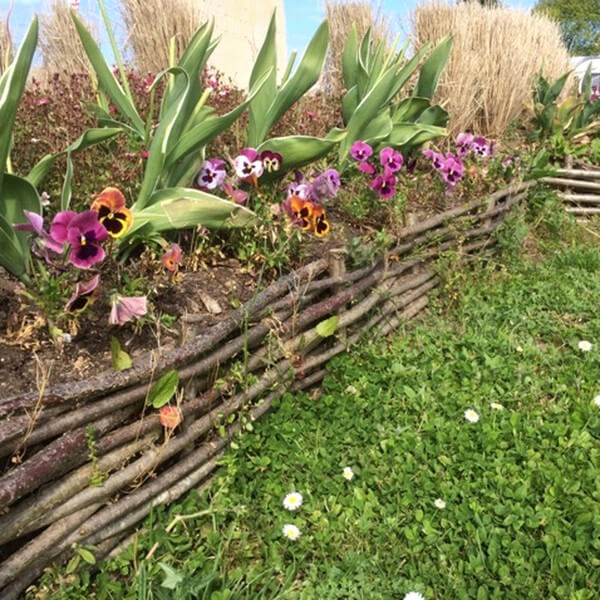 Source: politecnicacuenca.com
A beautiful rustic take on a garden fence, this lawn edging is ideal for those looking for a rustic and fairytale type look in their yard. The woven branches keep that natural look, while the height of the fence helps the plants and flowers stand out. This is great for raised areas that need a little edging to hold it all together.
11. Clever Paver Stone Flower Bed Edge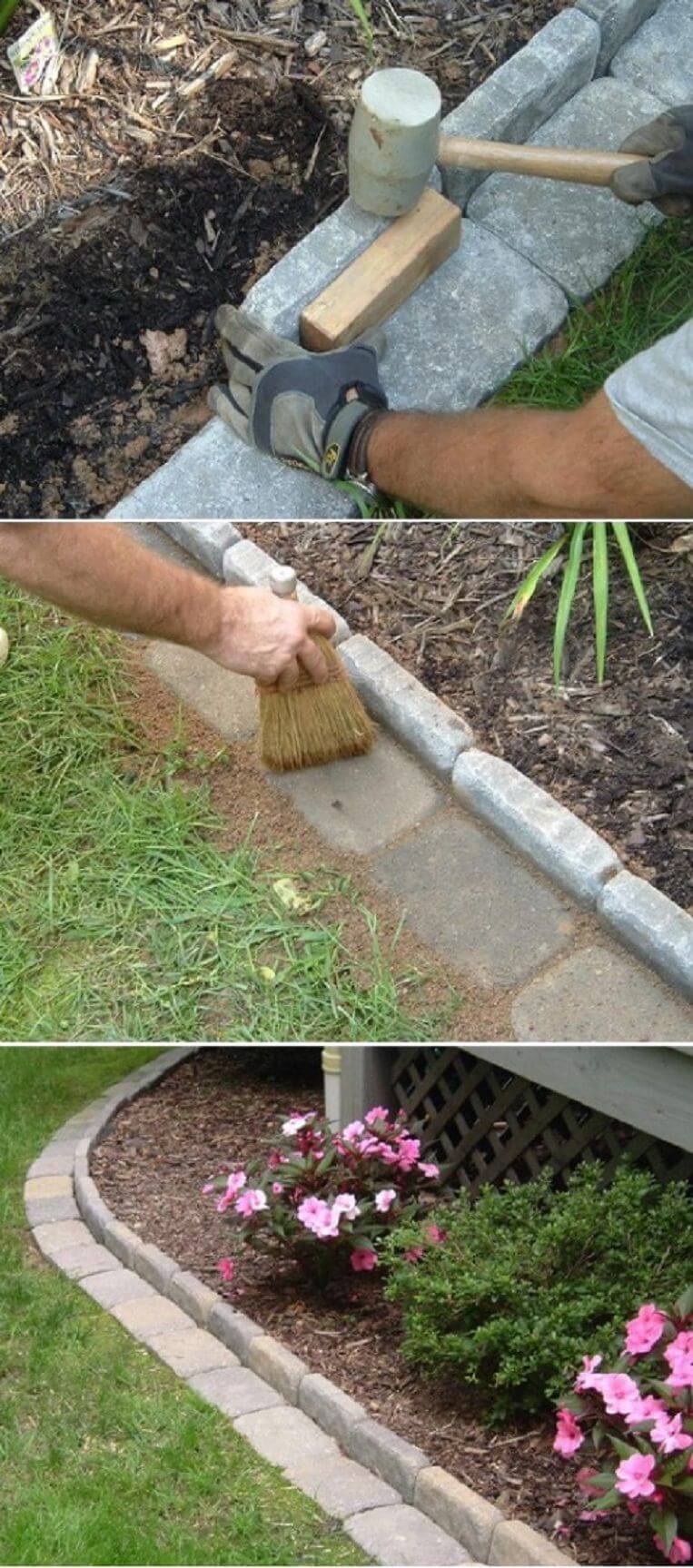 Source: gardeenworld.blogspot.com
If you want a wall and an edging for your garden, you can try this unique idea. Lay one paving stone down flat, while putting another paving stone at the top to create a wall. Fill in the gaps with dirt, and pack it down with a dry bristle brush.
12. Simple Square Brick Corner Edge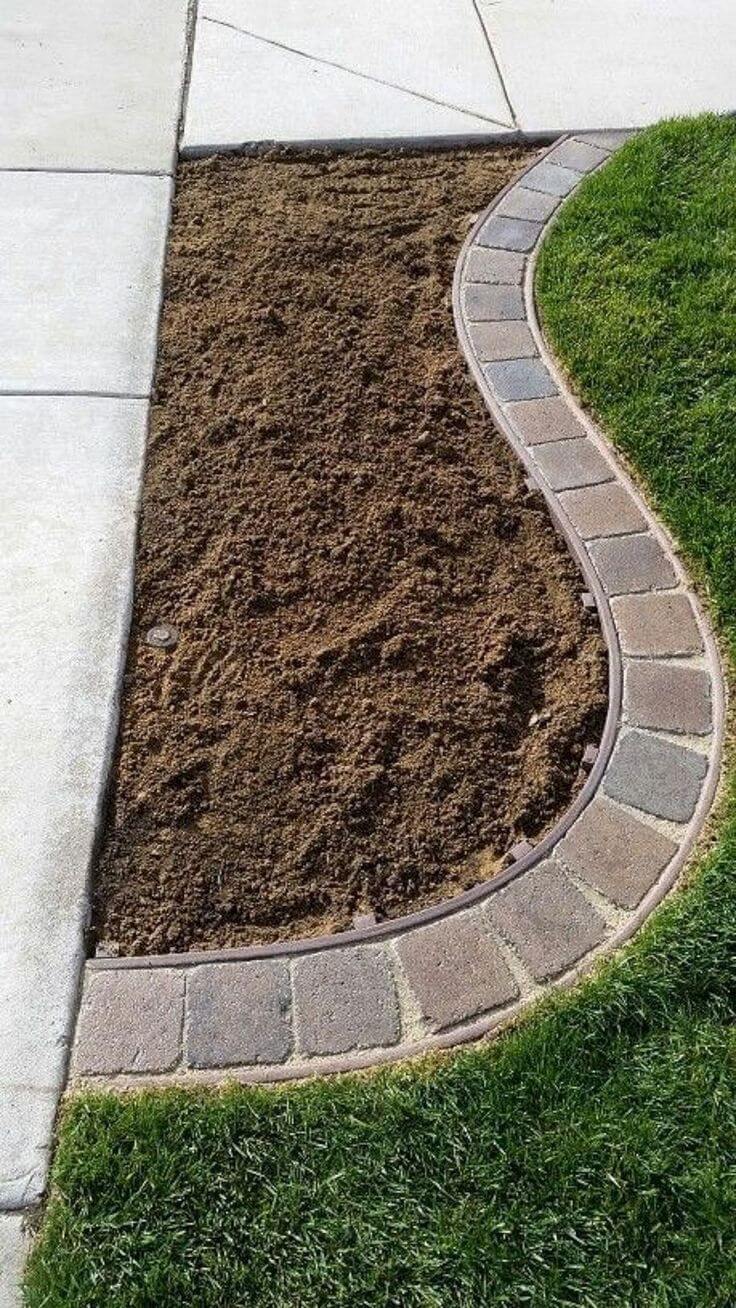 Your walkway and garden doesn't need much to truly make it stand out, and this simple brick edging is ideal for doing just that. You can purchase different colored bricks or bricks of the same color to give your garden a unique look that showcases your natural style.
13. Understated Black Plastic Mulch Edging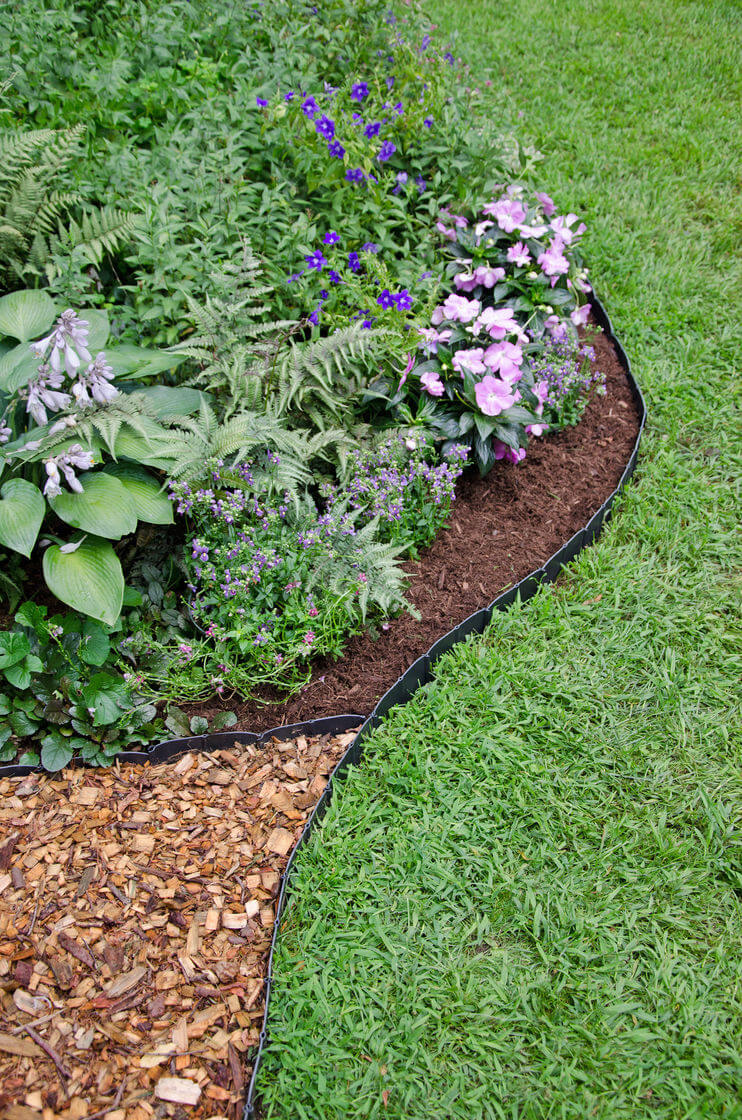 This simple yet effective lawn edging is inexpensive and easy to lay down. The black plastic edging can be purchased at any hardware or lawn and garden store. Bury most of it to draw the eye to the flowers while keeping that simple line for a clean lawn and garden space. The best part about this black edging is the ability to create unique looks with something so simple.
15. Unique Edge with Nested Flower Pots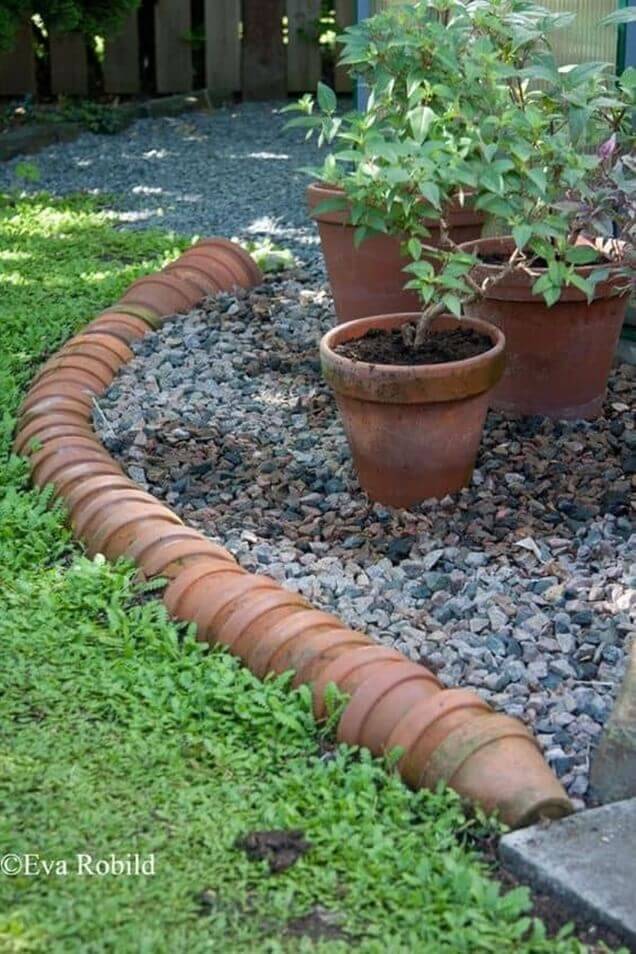 Small spaces can be easily defined with these old pots in a nesting position. You can half bury them to keep them from rolling away from your garden, and fill up the spaces with mulch or rocks for a unique twist on this lawn edging.
16. Eclectic Wood Panel Short Fence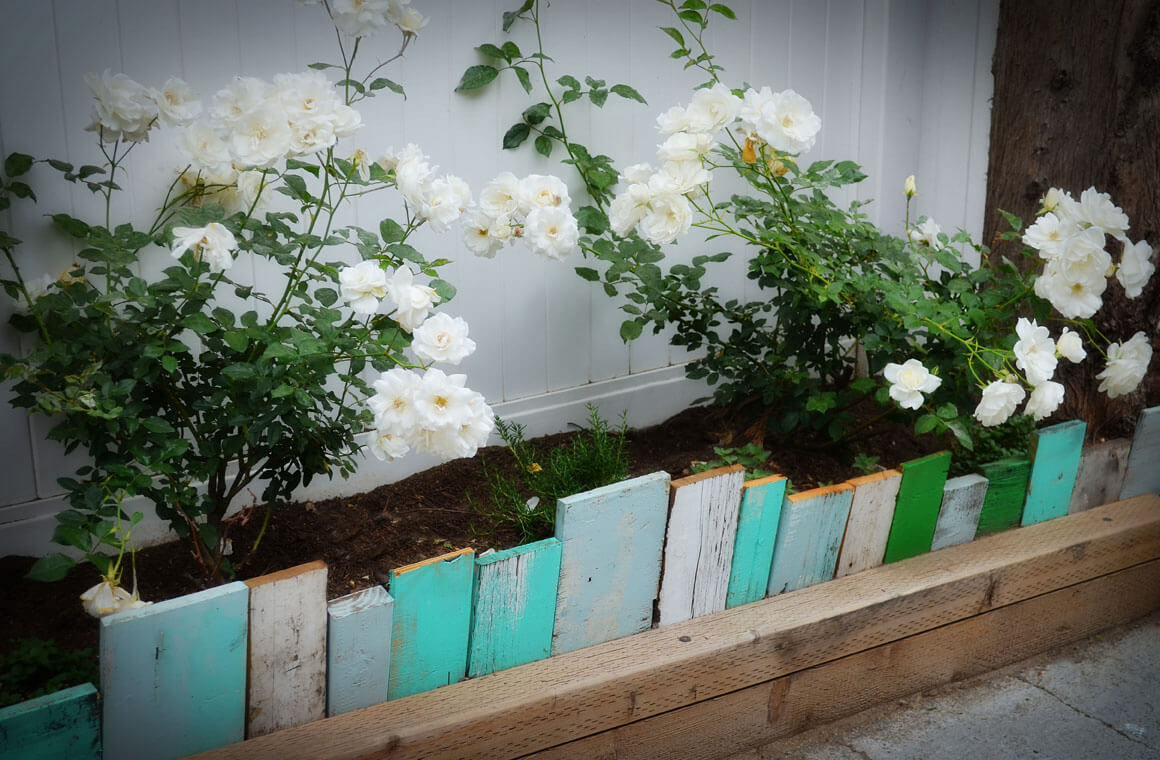 Old, painted wood actually makes a great option for lawn edging. The rough wood and chipping paint is an eclectic twist on a classic look for great garden edging that stands out from the crowd. You can use this idea in any garden as well. You can get this wood from junkyards or even make it yourself by painting old, weathered wood and sanding down parts to act as chipped paint.
17. Railroad Tie Raised Garden Edge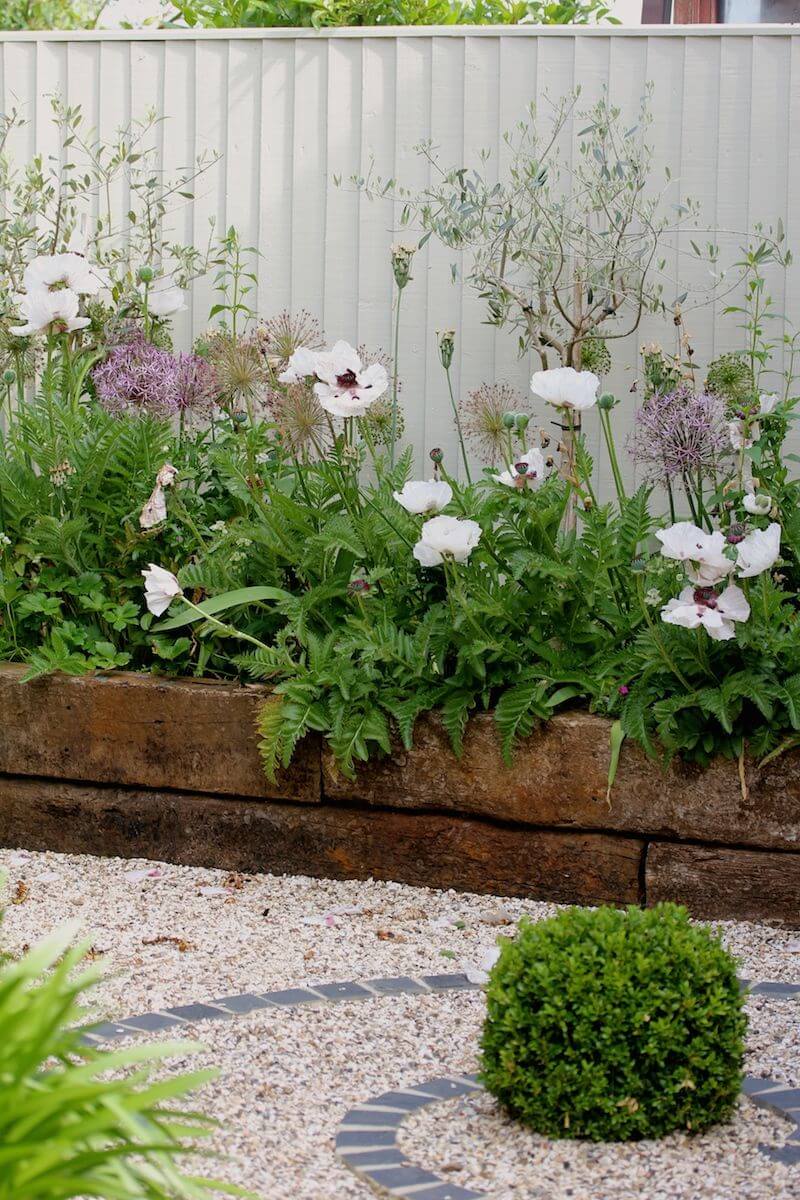 This rustic option is ideal for any garden that has simple and elegant plants. The use of railroad ties and old wood makes the garden stand out, but still keeps that earthy and natural feel that you want with a rustic garden. If you can't find any railroad ties, try using old and weathered wood.
18. Finished Brick Short Garden Wall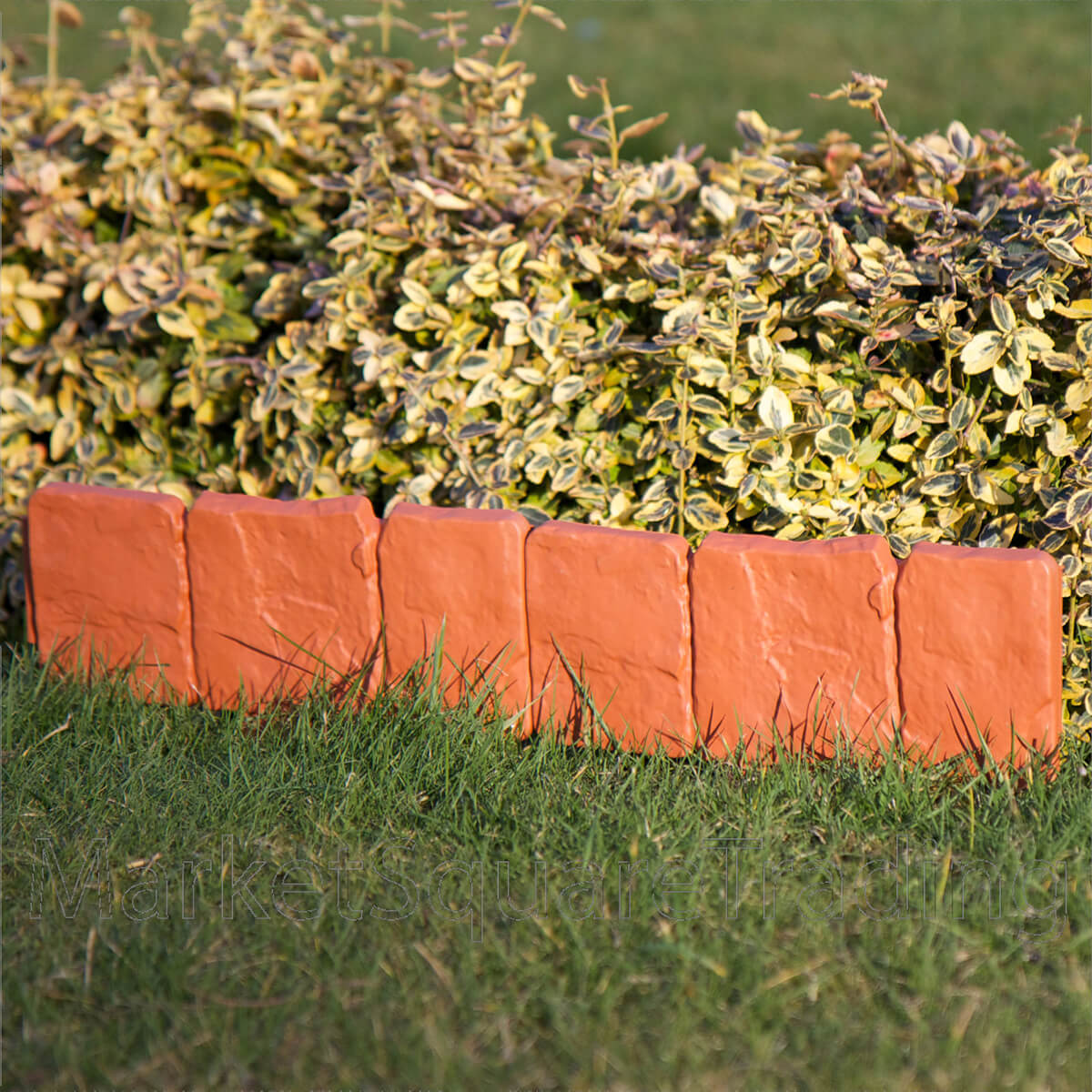 If you love the look of bricks, these half bricks are ideal for creating a short wall for your garden. Simply place the bricks where you want to line off your edging, landscaping, or walkway. You can even get different colored bricks for a unique effect. If you prefer, you can use whole bricks and have them cut in half by a professional saw blade to avoid crumbling.
19. Painted PVC Stakes Around Flower Garden

A simple and easy DIY garden edging option, these PVC stakes can be painted any color you want, stuck anywhere you want, and laid out in any shape you want. These are rather inexpensive as well, making them ideal for all garden types.
20. Rough Stone Tetris-Style Garden Wall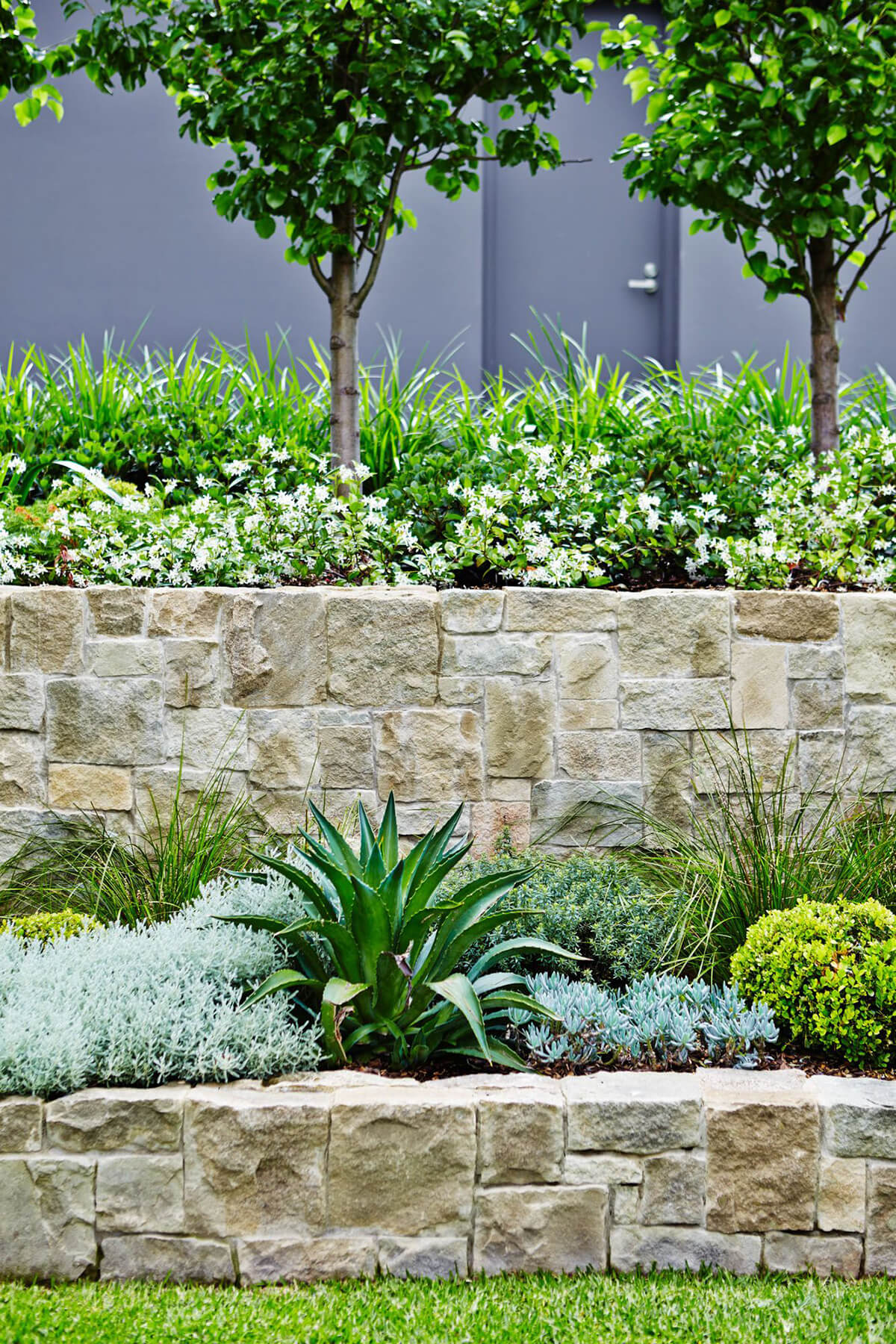 Source: outdoorestablishments.com
If you want to go for a modern and rustic look at the same time, these rough stone options are perfect for creating a Tetris-style look that will truly make your garden stand out. Stack the stones however you want to create a unique look. Use a variety of stone colors for a unique twist on your garden as well.
21. Natural Logs Around Raised Flower Bed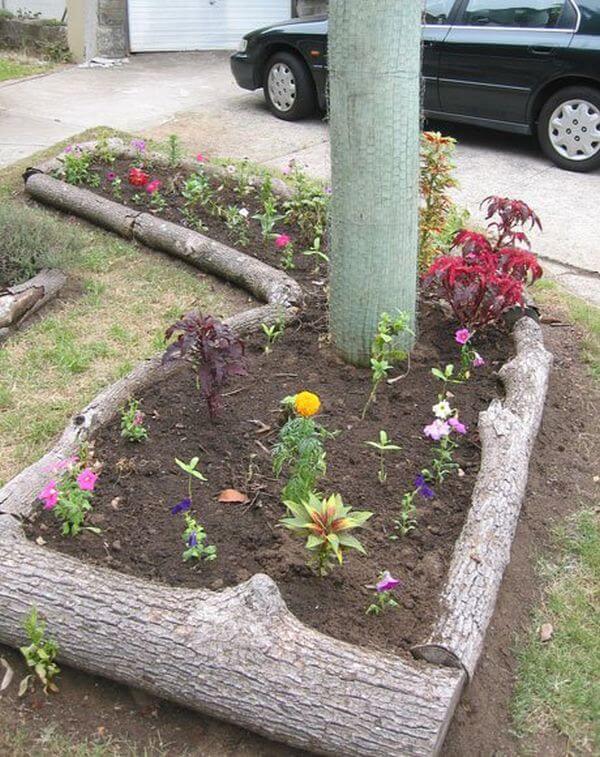 Source: walksydneystreets.net
For a natural look, using old logs can be the perfect lawn edging option for your flower bed. Simply grab some old logs, laying them out how you want. Fill in the spot with dirt, and plant your favorite flowers. Plus, the natural look is ideal for rustic homes and old logs are typically easy to find anywhere there is a wooded area.
22. Smooth Wooden Garden Bench Edge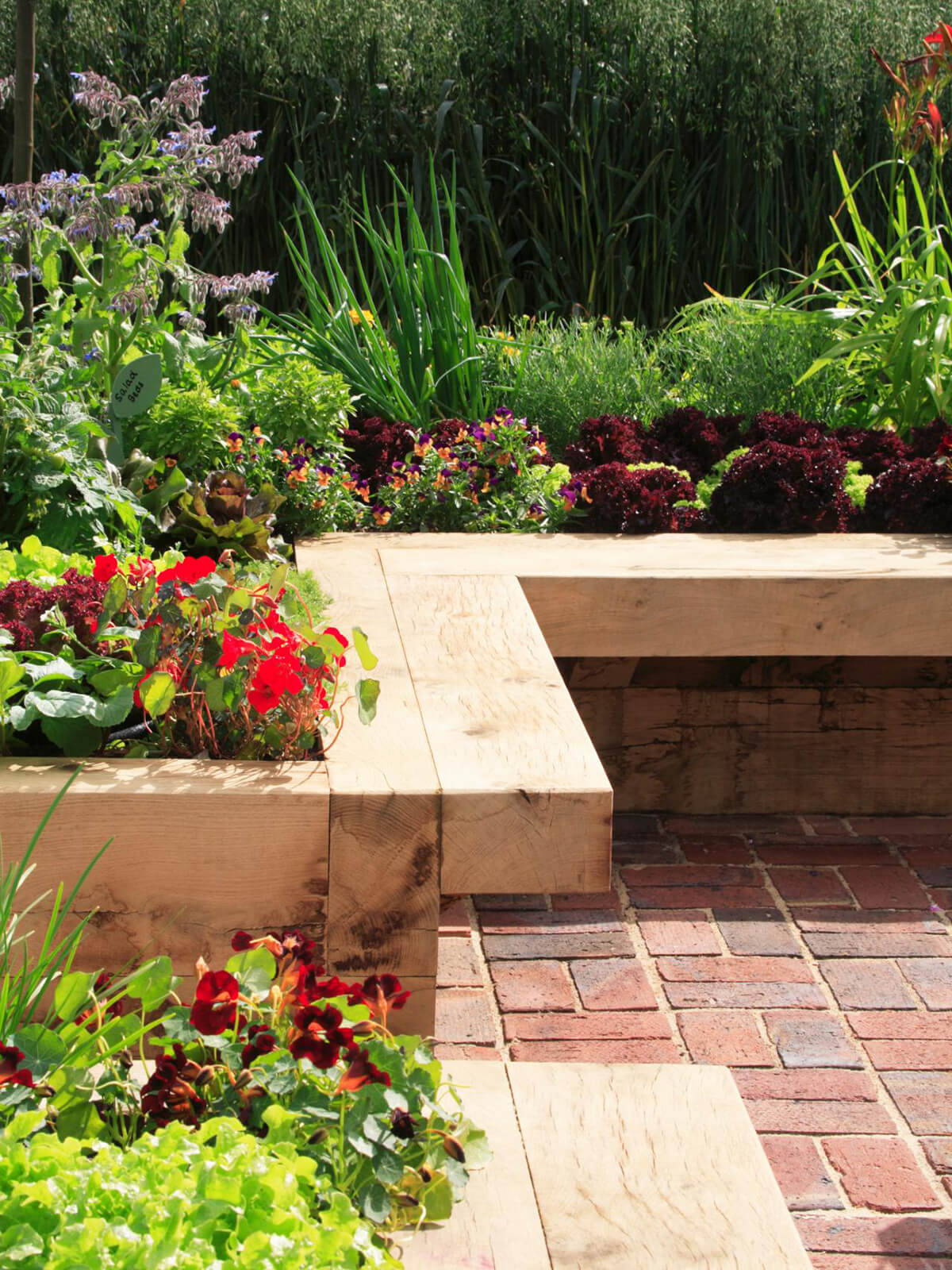 Combining seating and plants, this garden edging idea is perfect for the backyard. Using old wood or weathered wooden planks, create a seat that holds flowers along the edge of your backyard slab. This gives you more seating and a great garden clean edge. Be sure to sand down the wood and treat it to avoid splinters and rot on your edging.
23. Garden's Edge with Large and Small River Stones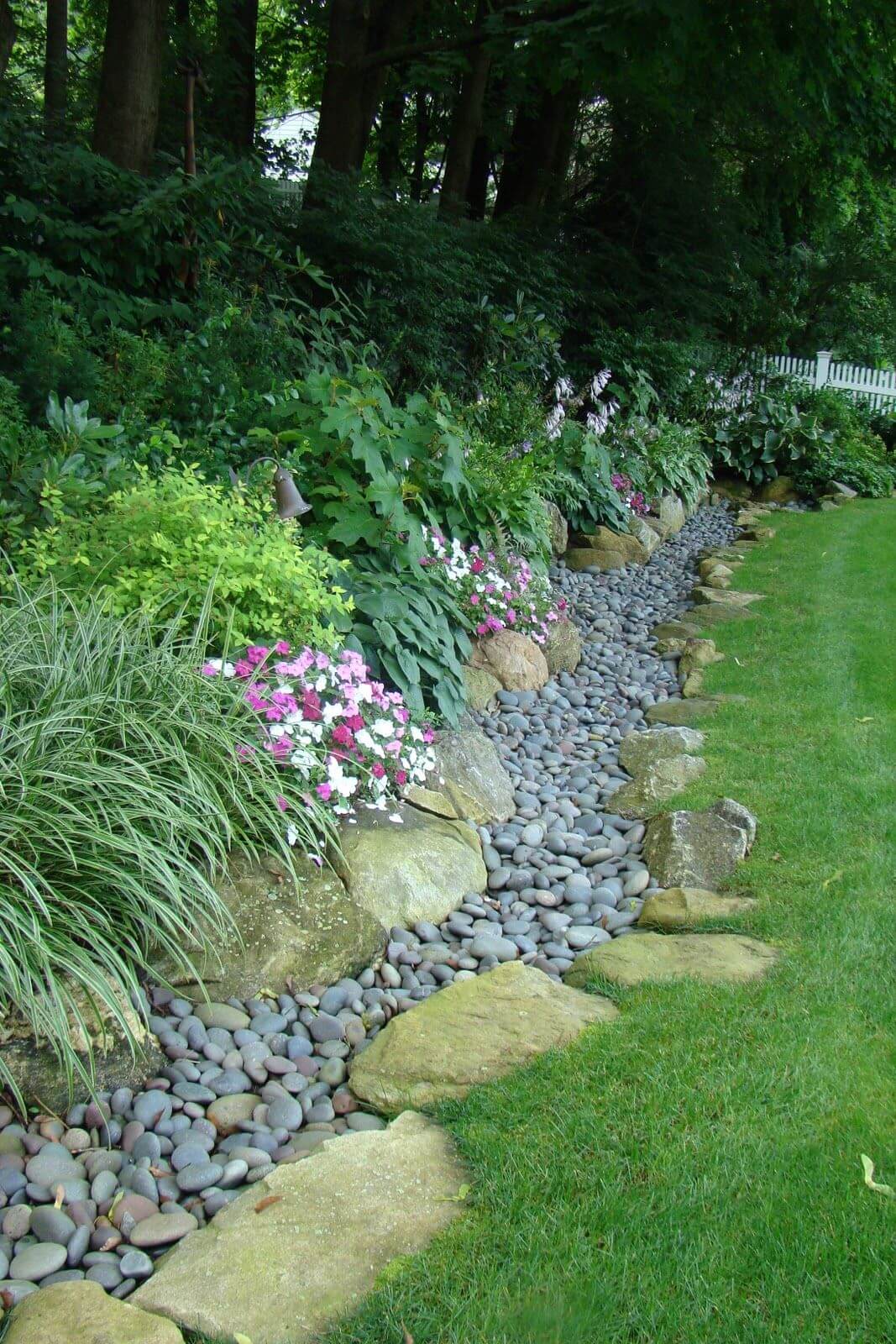 Source: blog.gardenloversclub.com
An interesting way to create a beautiful lawn edging for your home is to use river rocks and boulders to create somewhat of a makeshift river without water. This element lets the plants stand out, but it draws the eye instantly to the garden. A natural look, these rocks are often easy to find in areas known for larger rock sizes.
24. Carved and Curved Flower Garden Edge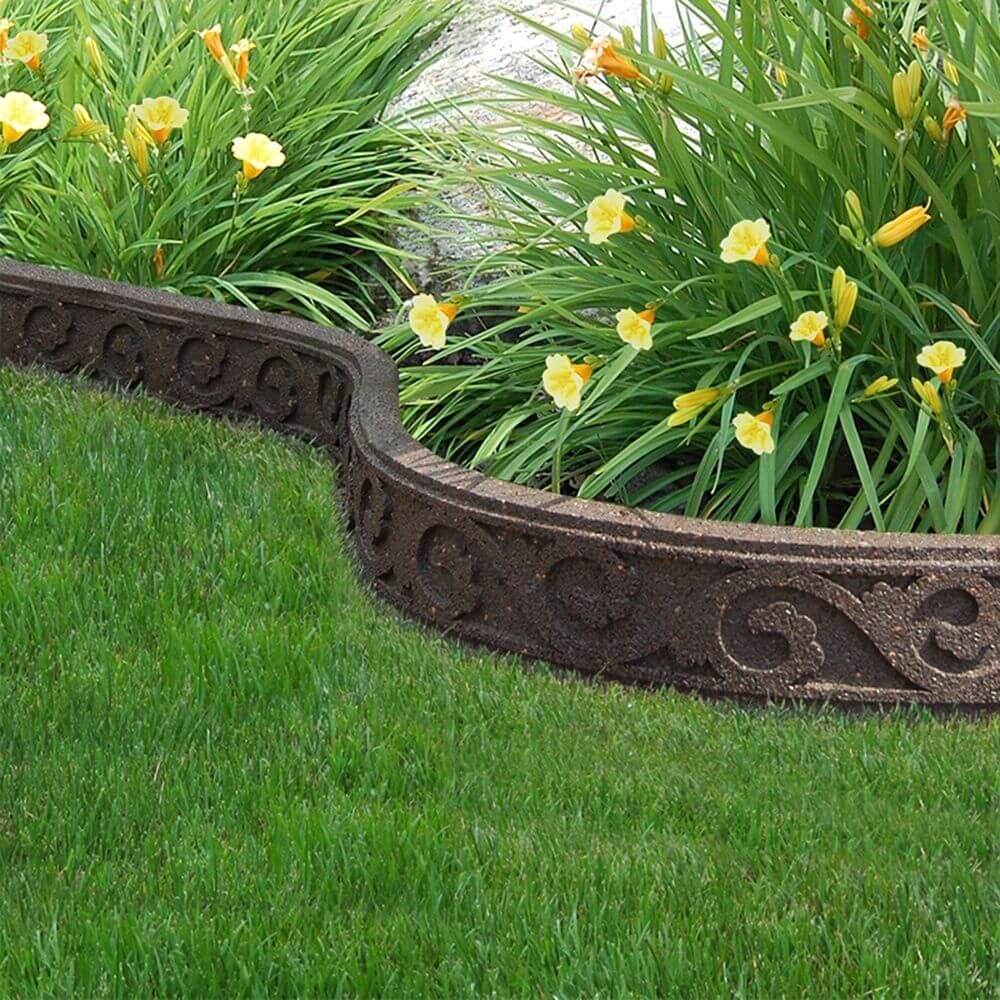 Perfect for large landscaping against your house, these decorative edging pieces are ideal for larger plants. The wide cement top is perfect for making a clean edge around the landscaping flower bed, and the decorative designs are perfect for creating a flair for your garden. Use dark or light paving stones according to your home color and your choice of plants.
25. Simple Decorative Black Wire Fence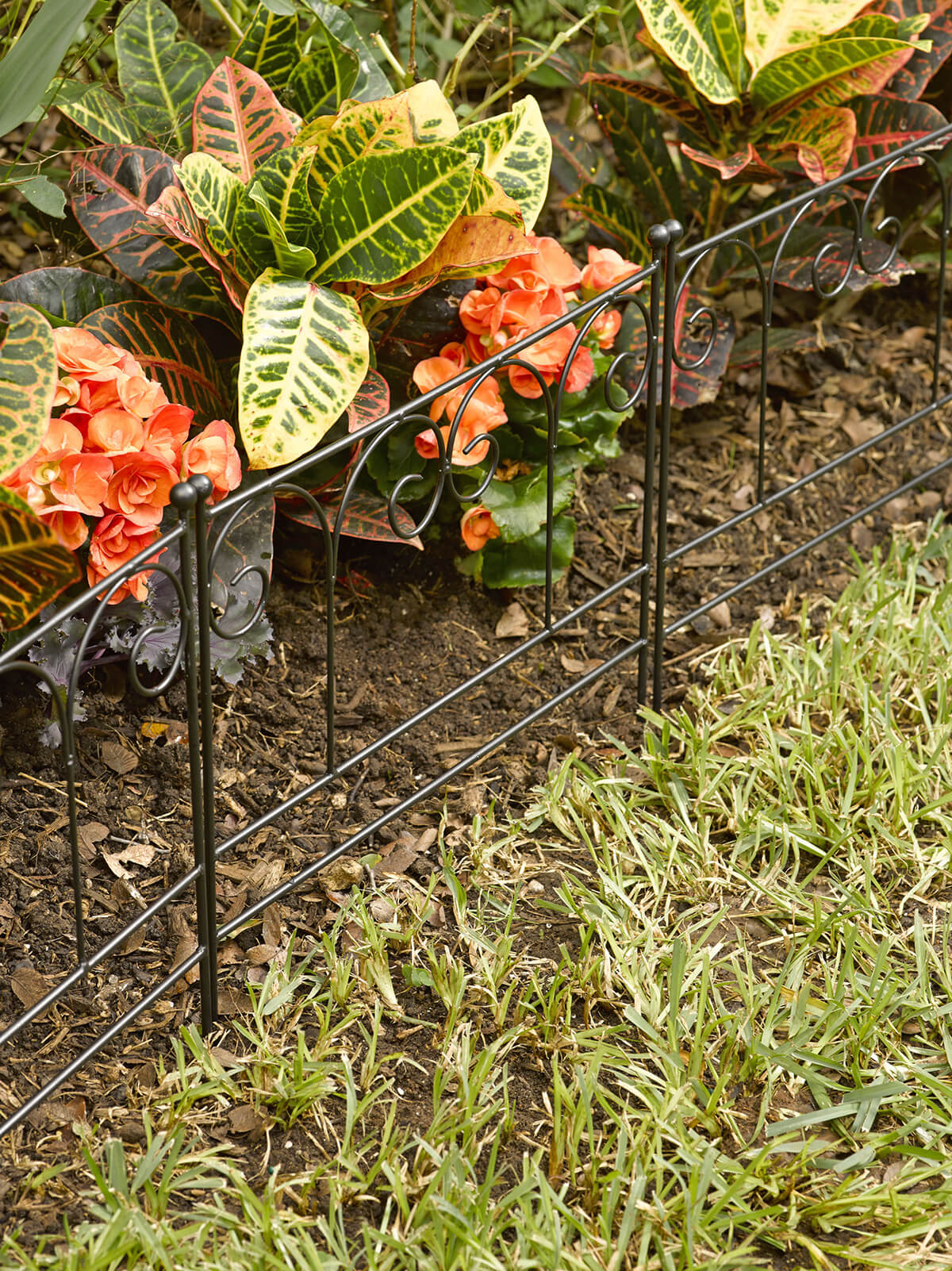 Sometimes, all you need is a simple black fence made from thin wire to edge off your garden or lawn. This decorative fencing is small and delicate, but it does a big job of highlighting the plants in the garden. Though it is not very big, the intricate designs are ideal for drawing the eye to the plants, which are the real talkers of your garden.
26. Short Scalloped Copper Edge Along Brick Path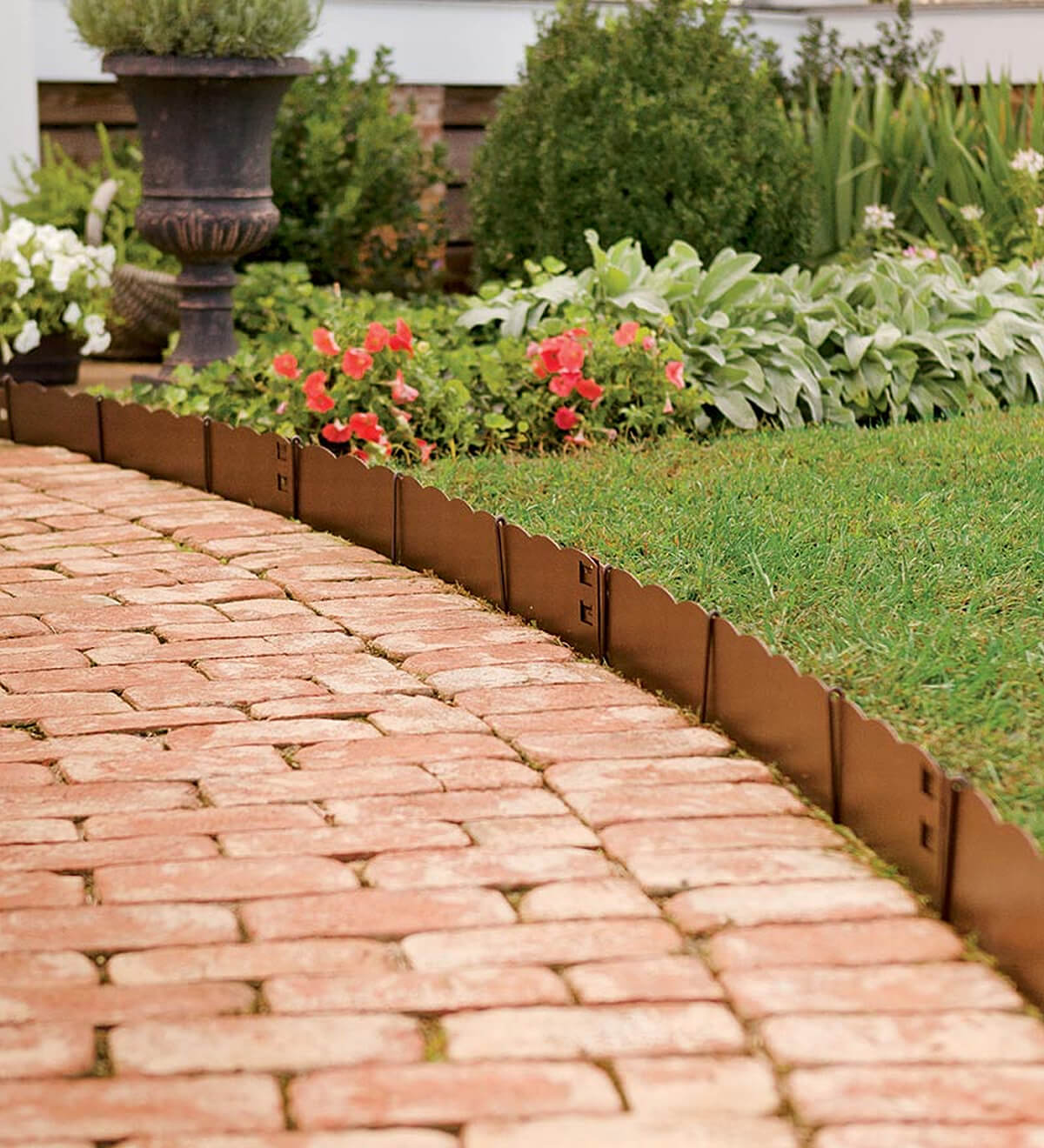 Copper is great for drawing the eye to the area you want people to gaze upon. This lawn edging idea is perfect for gardens, walkways, or landscaping to draw the eye to various areas. These copper-plated pieces also give a cleaned up look to your yard. Be sure to use green plants with little color to allow the copper to give color to the garden.
27. Linked Soft Red Edging Bricks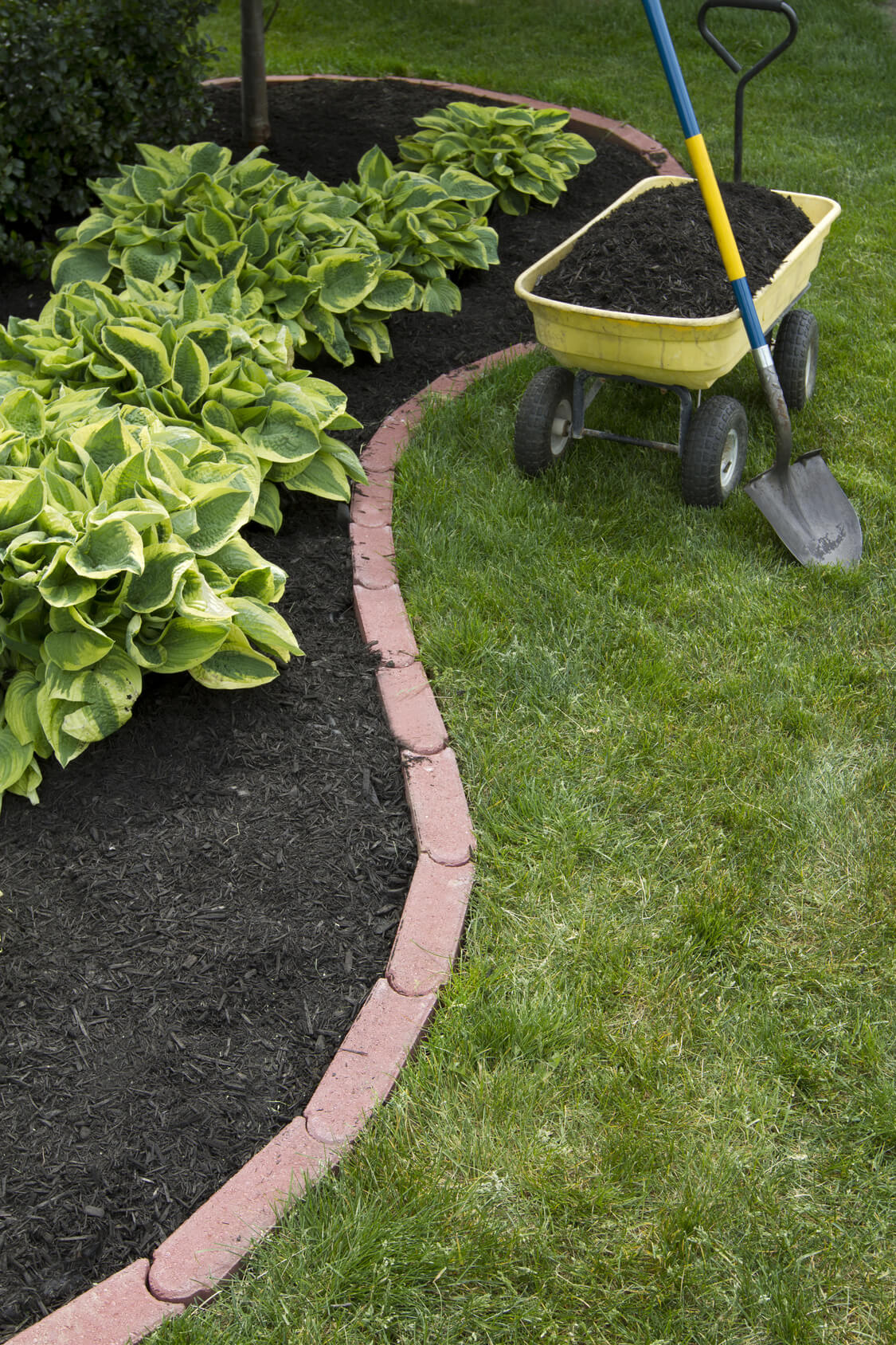 Source: farmersalmanac.com
The best part about linked paving bricks is the ability to create a curved shape easily. You can find these at your local hardware store, lay them down in any shape you want, and create the garden of your dreams. These linked bricks can be purchased in many colors as well, giving you creative freedom to decorate your garden space.
28. Pretty Polished Multicolored Stone Edge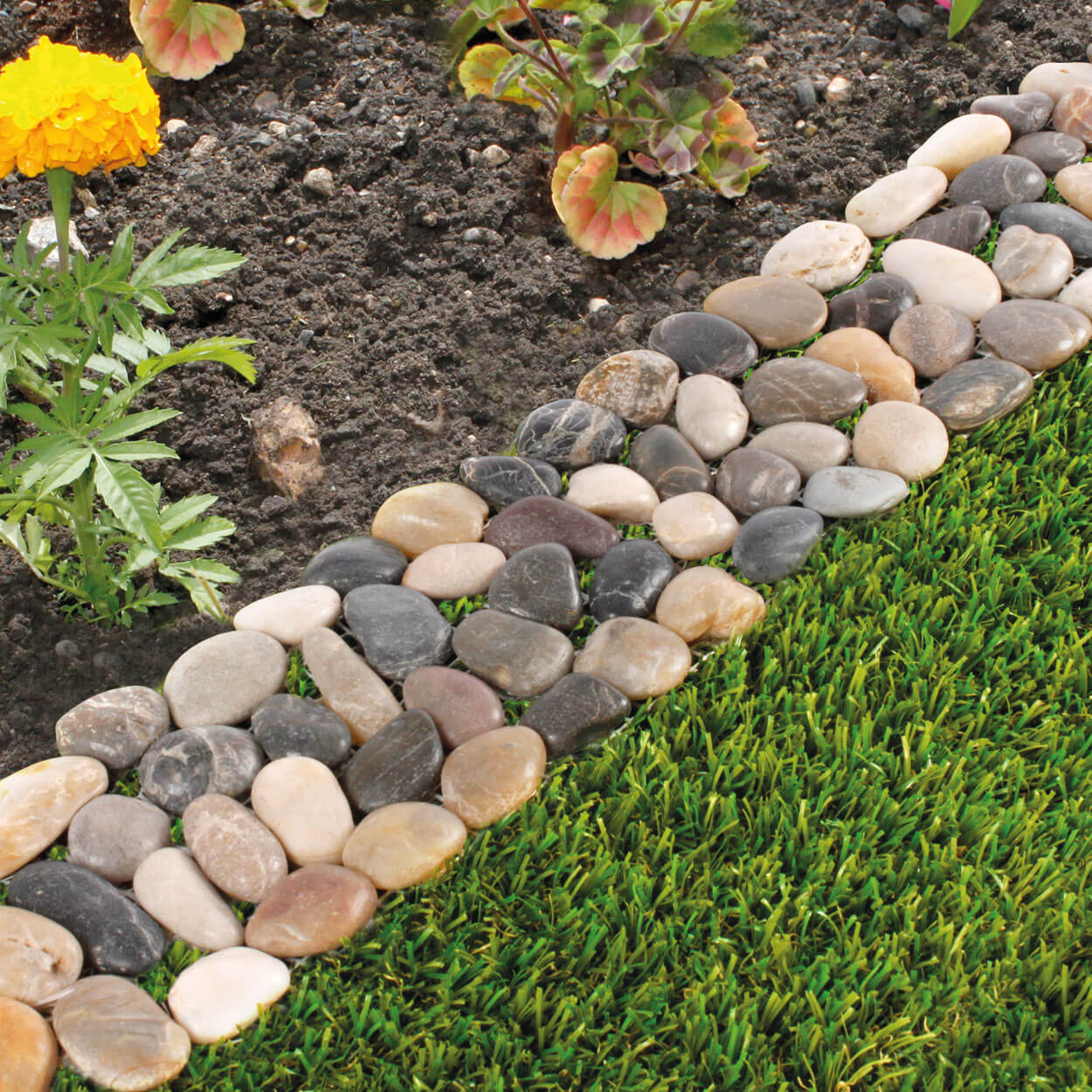 Source: coopersofstortford.co.uk
This is such an easy way to get gorgeous lawn edging without paying a hefty price. Gather up tons of polished stones, lining them up in a thick row to give your garden or walkway a unique but simple edging idea. You can use multicolored rocks as well. You can purchase polished stones from many home and garden stores as well, which is great especially if you do not live near a river.
29. Classic Red Brick Lawn Edge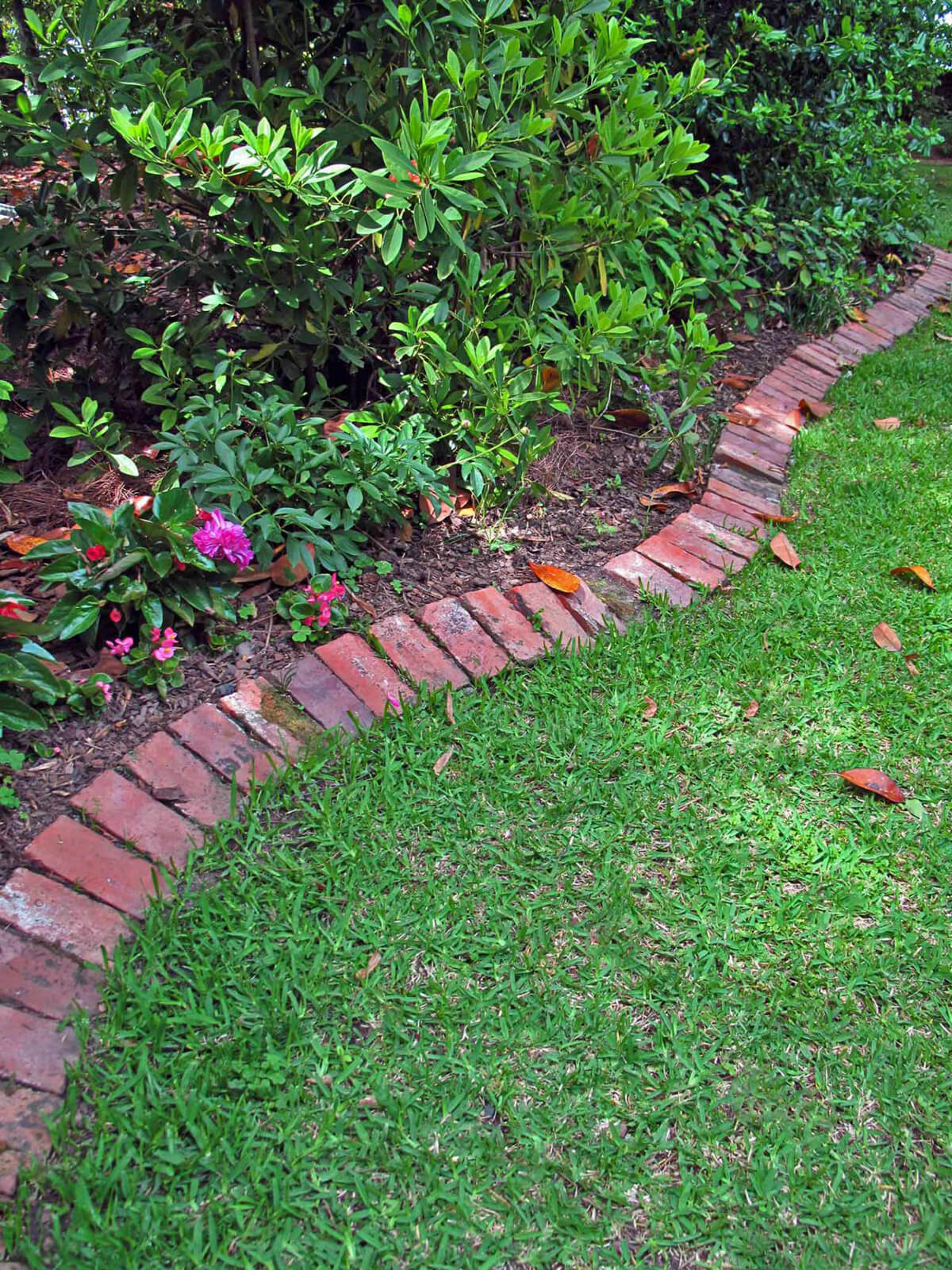 Source: mygardeningspace.com
A classic way to get great lawn edging is by using old bricks. Simple to lay down, these are perfect for drawing the eye to your landscaping without overpowering the plants that you have planted either in your garden or in front of your house.
30. Decorative Dark Metal Flower Stakes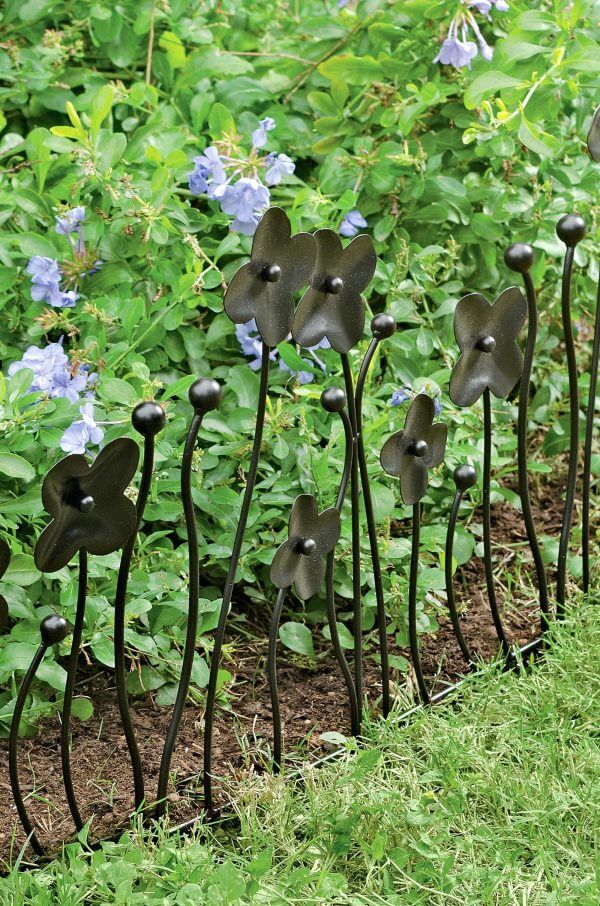 Source: actionquarterly.com
Made from a black colored metal, these flower-shaped edging posts are perfect for highlighting your small garden while bringing life to your yard. The simple four petals and wavy stems make these stakes unique in their own way. They act like a small fence, but the simplicity of them makes it easy to find flowers to match.
31. Bronze Raised Garden Edges with Patina Effect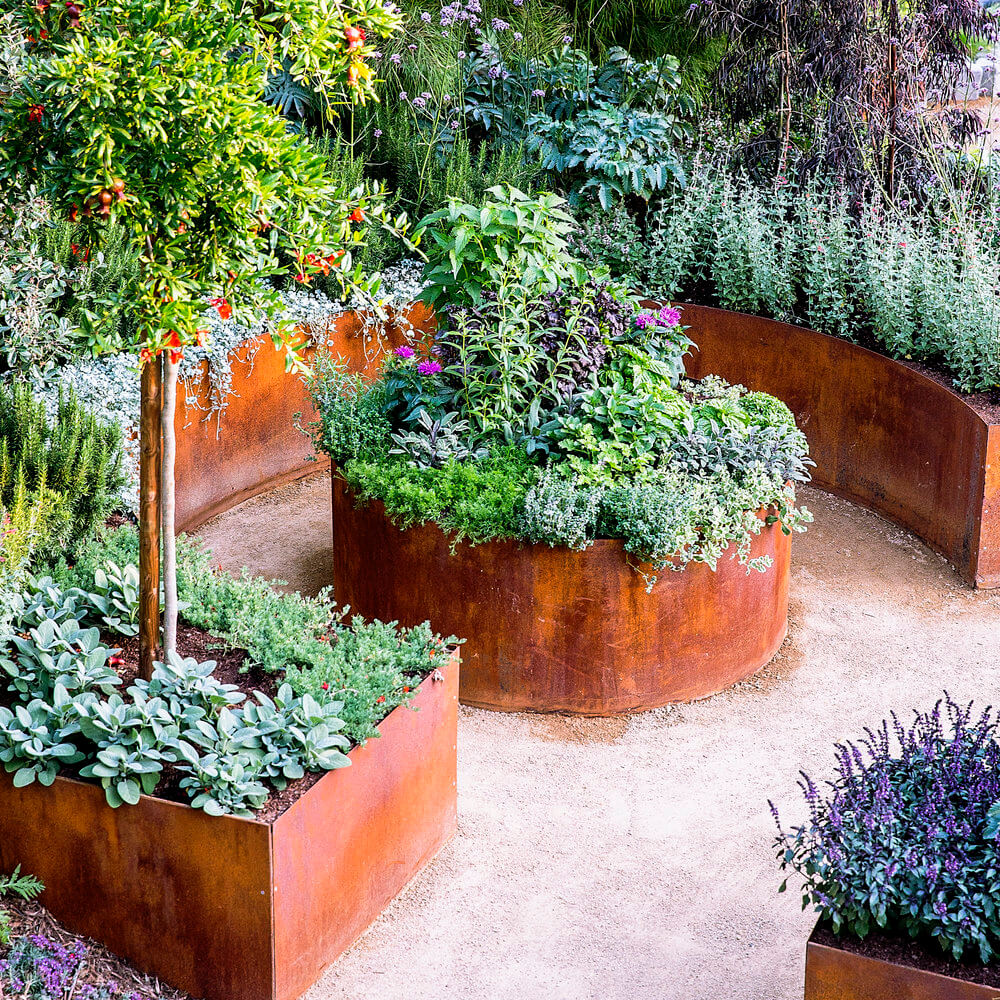 A beautiful way to get gorgeous garden and lawn edging, these bronze, simple planters are everything you need for your simple garden. Fill them with color, or fill them with greenery of different types to really make them stand out. Just like with copper, bronze has such a unique color that green plants look best inside them.